Here is Part One:
Here is something not to be missed while Babu is on vacation with Jakey in Amsterdam, NY and staying with Ann and Paul:
Sunday, August 11th, 1940

We slept late and attended 12 o'clock mass at the Shrine of Auriesville.  After dinner we went swimming again but in a different place.  They are grand to us and try to show us the sights and give us a good time.  Besides, they want Jakey and I to get married soon and we haven't decided we were ever going to get married.  It's such a big step to take.
Uh, yea it is!  This might very well not be the first frank and forward conversation she has had about marriage with Jake but the first time she writes so clearly about her feelings.  Of course, we all know better.
Sunday, August 18th, 1940

Got up late this morning and went to 11 o'clock mass.  Am lazy and loose when I'm at home alone.  Jake and I left at 3 for Bondsville.  Mary is making her first communion today so we were all there.  After supper we visited John Dudeck's farm and saw his calf.  Jakey was so romantic tonight in his actions.  Guess he feels good.
It's a sweet and simple post, but it leaves me perplexed.  Let's go through it.
First of all, I love her phrase: "Am lazy and loose when I'm at home alone."  I mean, don't we all get that way?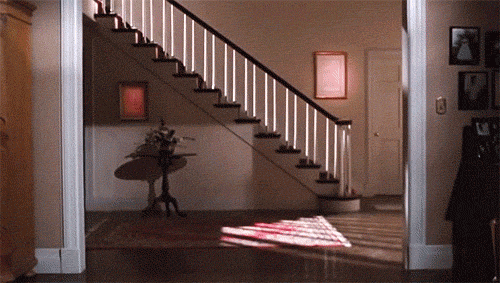 (This is the first time trying to insert a GIF into a post.  Let's see how it goes.)
Moving on. They go up to Bondsville. She has family there and the Dudeck's I believe are cousins of some sort.  The passage is all on the up and up, including her usual comment at the end about her romance with Jakey.
So who the heck is this?
Frank Kullar or Kullas? They have a Frank who hangs out in their circle of friends but I am pretty sure that's Frank Adamczyk.  Oh well.
Wednesday, August 21st, 1940

About 8 o'clock Peach and I went driving.  I stopped at Zosh's but she had gone to the movies with Ed.  We hadn't been at the airport for ages so we went.  We used to say broken, incoherent things to each other before but no more.  Of course we progress as time goes on but always there is that unsatisfied feeling.
That was a pretty pretty cryptic passage, although I bet I have it pretty much figured out.
Thursday, August 22nd, 1940

After supper, I always wonder if Jake's coming.  He brought us some jars of pickles and then we went to the movies. Saw "Captain Caution" and "The Golden Fleecing."  Jake has a cold and a headache.  Maybe the night air on the porch will do him good.
This passage hit my heart strings with a pang.  I was going through the whole box of Babu's diaries yesterday and I flipped through some of them – just looking for dates, I swear, not cheating.  Walter, at some point in the early 2000 had brought her pickles, too.  It seems to be a thing men do for her.  Now Jakey, and Walter, and also Bernie are gone.  I must stop as I am getting ahead of myself and also getting too sad.
Monday, August 26th, 1940

Another lazy day at the office.  But Mr. Hitchcock returns tomorrow so back to work we go.  Took a belated piano lesson at Professor's.  Then Edmund, Jake, and I drove to West Springfield for our vacation pictures I was having developed.  Every single one came out and quite well.  Peach is thinking of joining the air school this year to learn mechanics.
Alright, we begin talking about the important stuff relating to Jake.
Wednesday, August 28th, 1940

Gosh that boy from Taunton I met at the choir concert is thoughtful.  Monday I had a letter enclosing a few snapshots and today I received an enlarged, colored, and framed picture of myself.   About 8 when I was pressing some clothes, Jake came.   We listened to the radio, took a walk, went riding and almost fell asleep on our front porch.
Wait a minute.  I don't remember her meeting a boy on her choir trip to Taunton.  I mean, I remember her meeting boys, but a nice one?  Who took pictures?  I must return to this post:
One of the boys asked to drive me home so Zosh and I went and I had two boys in the back but she had more trouble with one in the front.  Got to the hotel around 2 and then joined a quiet party on the floor below.
So, when did she meet this nice boy who is sending her pictures?  Babu, Babu, Babu… I just don't know what I am going to do with you.
But, honestly, I could care less about this Taunton boy when the end of the passage describes the perfect night with her honey.